One Click Integrations With:
1 Click Listing Tool – Multichannel Fulfilment Software
Stock Konnect is Multi-Channel Listing Tool is a powerful solution to easily list and sell the variation of products on multiple sales channels.Stock Konnect also helps to control stock, synchronize inventory, fulfill and manage orders, and access the well managed reporting intelligence you need to be successful. You can be up and running on Stock Konnect today!
Introducing Stock
Konnect
Removes the complexity of selling on multiple channels & save your time.
A powerful listing & stock management & e-commerce tool for eBay, Amazon, Shopify and other platforms that allow you to create new single and multiple variation listings, manage existing listings, control, and sync stock, manage orders, and export reports, all through a simple and intuitive interface.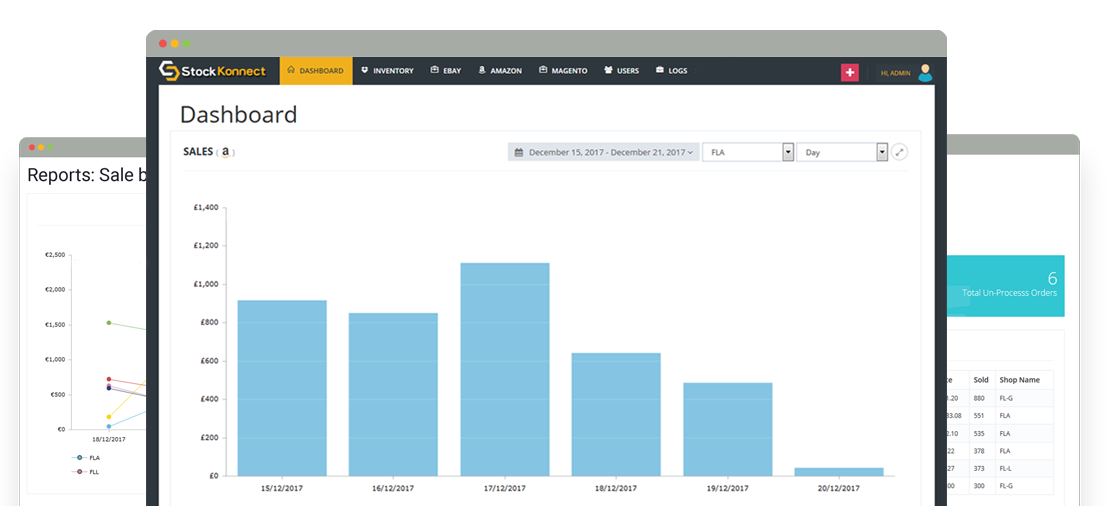 Why You Need Stock
Konnect

?

Here are some important factors which will allow you to get your online business to connect with the Stock Konnect, are as follows
No doubt, you are working with the most efficient staff but still, you are facing the lack of exact information
It will surely save you much time to get spend on listing the products
It will also enhance your concentration for the business as well and you will surely get the better results from it
Obviously, you are running your business with different products but still, you don't get the reliable listing procedure
It offers a single platform for all big marketplaces and eCommerce platforms to be integrated easily.
You can easily add, update and edit listings from Stock Konnect's easy to use interface and synchronize among all the platforms
These all benefits along with the correct information regarding your stock will be in front of you by using the Stock Konnect software.
Here you will also get to know about the real factors for your online business which you will get from the use of Stock Konnect.
Why Should You Use
Stock

Konnect?

List to Amazon, eBay, Shopify, and Magento faster than ever before. Use our Stock Konnect With our Multichannel E-commerce Solution, integrate your eBay, Amazon & e-commerce website to save time by automating the product listing process and integrating the orders & inventory at one point

Testimonials
You rarely come across a complete digital solution for your online business but when you talk about Stock Konnect so it as close to it as you could get it. One click based solution is 'THE" peace and paradise. A big shout out from me for this!!!! The best inventory management system and also one click master from eBay – amazon. Bar none!!
"Stock Konnect help our business to streamline our inventory & orders and reduce time and efforts, Thank you"
"Very user friendly, easy to use,  customer support is awesome, always ready to help you. "
Price Plans
Select Something That Suits You
Personal
$35 / Month
1 eBay, 1 Amazon
1 user
Basic
$60 / Month
3 eBay, 3 Amazon
2 users
Advance
$110 / Month
5 eBay, 5 Amazon
3 users
Corporate
Unlimited Users
Unlimited eBay/Amazon
Customer Support 24/7